Downloading your incoming messages via Gmail over the POP3 protocol
To configure your Gmail account to download your incoming messages with our service using the POP3 protocol, you can follow the steps below. In this manual, we are using example domain name and email address, so please make sure to replace:
username@example.com with your email address
your_server.com with your server's host name (you can find your server's host name listed in the upper left corner of your Control Panel)
1. Log into your Gmail account, and access the Settings section.
2. Click Accounts and Import.
3. At the Check email from other accounts (using POP3) section, click the Add a POP3 mail account that you own link.
4. Enter your email address with our service that you want to download at Gmail, and click Next Step.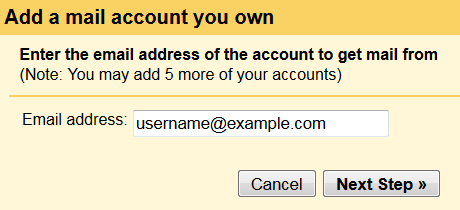 5. Specify the following values:
Username: Enter your whole email address (username@example.com).
Password: Enter the current password for the mailbox.
POP Server: Enter mail.your_server.com. Be sure to replace your_server.com with the actual hostname of your server.
Port: 995
Mark the Always use a secure connection (SSL) when retrieving mail option.
The rest of the settings depend on your own preferences. If you would like to keep a copy of downloaded messages in your mailbox on our servers, the Leave a copy of retrieved message on the server. setting enabled.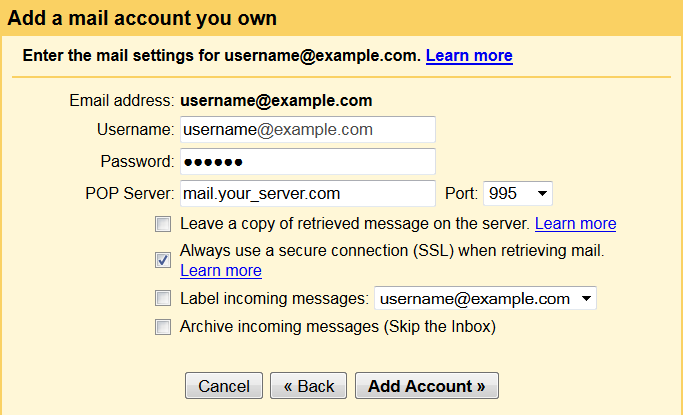 You can add more email accounts by repeating the same procedure.
Note: Messages moved to the Junk folder by the SpamAssassin filter will not be downloaded to Gmail as that folder is not accessible via POP3. For more information, please check our Possible issues when using POP3 and SpamAssassin article.